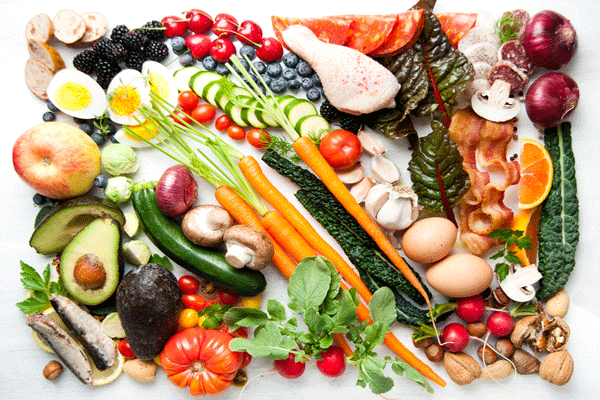 As a Holistic Health Practitioner the questing I am asked the most is, "what are the top foods you recommend for weight loss and health living?"  Now while this is not really a tough question for me to answer, the reality is that I believe pretty much all the foods that you enjoy can be included into a healthy living eating plan that will not only help you to lose weight BUT . . . will also allow you to sustain that for your lifetime without sacrificing the joy that great food and meals bring to our lives.  It's important to have a realistic perception though with what I just said here, because if your diet consists of largely fast food, high trans fat foods, high sugar foods then you are going to have to make some very serious changes in not only your food choices but in your relationship with food.
But having said all this, what are my favorites?  To be honest I have several but what I've compiled here are my top 10 that are pretty much the staples in my daily nutrition.  This list is what I consider to be the best "high mileage" foods that not only keep me satisfied but also give me enough variety to create delicious meals & snacks every day.
Kale
The top of my list is kale.  I love kale & it's my all time favorite leafy green veggie.   It's more filling than lettuce, loaded with vitamins C, A & fibre.  It's also incredibly versatile as it can be eaten raw or cooked.
Sweet Potatoes
My next favorite veggie is sweet potatoes.  Sweet potatoes are a low glycemic food so they release sugars slowly into the bloodstream thereby eliminating the sugar spikes that often accompany high glycemic foods like white potatoes & white rice.  Sweet potatoes are another veggie that provide a substantial dose of vitamins & minerals & . . . they taste amazing!  They are the perfect nutritionally dense food choice to satisfy a sweet craving without reaching for a less healthy option.
Avocado
Let's talk fats!  Yes, fats are an important part of a healthy, well balanced diet.  They provide us with energy & help us to feel "satisfied" & full after eating.  My go to is Avocado!  Avocados are another versatile veggie that add variety to a meal, as well as almost 3 grams of fibre per serving & less than a gram of sugar.
Quinoa
While quinoa is often thought to be a grain it's actually a see & is considered to be a "superfood."  What I know for sure is that it is super delicious & can be prepared as a breakfast, lunch, supper or snack.  See . . . versatility!  What else does quinoa deliver?  Well it is a high protein food that contains all 9 essential amino acids, which is pretty important when you consider our body does not make the 9 essential amino acids & the only way to get them into our body is to consume them in the foods we eat.  Three cheers for quinoa!
Almonds
The perfect snack that travels well.  Raw natural almonds are an excellent addition to salads & pretty much any meal where you are craving that "crunch" & want to add some healthy fat, as well as extra fibre & protein.  Just a handful, about 15 almonds, is the perfect between meal snack to reduce cravings & get you to your next meal.
Blueberries
No surprise here.  Blueberries are natures dessert; they really do not need anything because they taste perfect just as they are.  Not only that, they are loaded with anti-oxidants, fibre & vitamin C.
Greek Yogurt
Another good fat that deserves our attention.  The reason I prefer Greek style yogurt is number one the consistency; you cannot beat that thick, creamy deliciousness.  Also Greek style yogurt contains less sugar, fewer carbs & more protein than regular yogurt.
Salmon, Chicken Breast & Steak
When it comes to lean proteins these 3 are my favorite & I'm pretty picky when it comes to the choices I make specifically when shopping for these items.  I look for wild & not farmed salmon, free range & grass fed, antibiotic & hormone free chicken & beef.   Not only do lean meats pack a powerful protein punch, but salmon also provides you with necessary Omega-3s . . . and we all need our Omega -3s.
This is my list & it may look very different from yours.  As a matter of fact it should!  The point here is that in making more healthy choices to consume more nutritionally dense foods you need to choose the foods you like.  If you don't you will likely not stick to a consistent eating plan & lose motivation.  Don't get stuck & don't be afraid to try new things & play with recipes & cooking methods to not only get the most value out of your meals but also the best flavor & fun into your meals.
Bon Apetite!