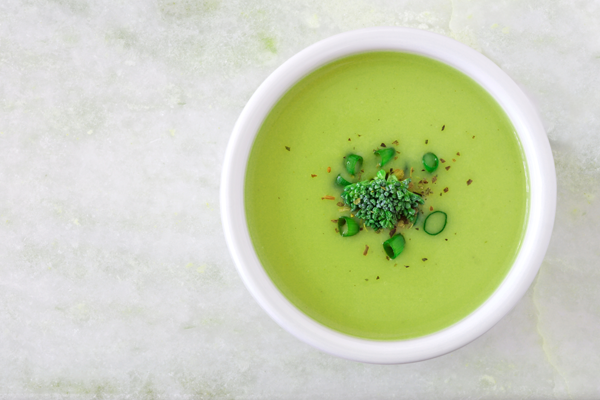 Fight stress with food?  Why not . . . especially when it's a comforting, soothing bowl of homemade should that is loaded with solid nutrition to feed your soul!
Anti-Stress Green Soup
1 container low sodium chicken broth
2 onions, diced
1 cabbage, shredded
2 leeks, chopped
1 cauliflower, chopped
2 handfuls spinach, chopped
1 large head of broccoli, chopped
salt & pepper to taste
Heat chicken broth in a large pot.  Throw all your veggies EXCEPT the spinach!  Bring to boil & let simmer till veggies are soft enough to blend.  If you have a hand mixer, blend till you have a smooth, creamy soup.  If you don't, let soup cool & blend in batches in a blender.
Portion spinach into serving bowls.  Ladle hot soup over spinach.  Season to taste with salt & pepper.   Bon Apetit!!!
Tip:  Make soup ahead & portion into freezer-friendly containers.  Now you will have a health snack or lunch to take with you or take out in a pinch!  Talk about "no stress prep!"